On the Oscar short list for this year's Best Documentary Feature!
Agnès Varda, who turned 89 in May 2017 and received an honorary Academy Award the following November, is one of the leading figures of the French New Wave. She codirects this enchanting documentary/road movie with acclaimed 33-year-old French photographer and muralist JR. Kindred spirits, Varda and JR share a lifelong passion for images and how they are created, displayed, and shared. In Faces Places, they travel together around the villages of France in JR's photo truck—meeting locals, learning their stories, and producing epic-size portraits. The photos are prominently displayed on houses, barns, storefronts, and trains, revealing the humanity in their subjects and themselves. Faces Places records the heartwarming encounters as well as the unlikely, tender friendships created along the way.
"Magnificently moving, funny, and altogether wonderful! Agnès Varda and JR are a screen duo for the ages!" —indiewire.com
Find out more »
This wry, melancholic comedy from Aki Kaurismäki—whose films the MFAH has premiered for more than three decades—speaks to the current refugee situation. Khaled (Sherwan Haji), a displaced Syrian, lands in Helsinki as a stowaway. Meanwhile, middle-aged salesman Wikström (Sakari Kuosmanen) leaves behind his wife and job and improbably buys a seafood restaurant. Despite being denied asylum, Khaled remains in Finland, and the paths of the two men cross fortuitously.
A bittersweet tale of human kindness, The Other Side of Hope is as deadpan as the best of the director's work, with a deep well of empathy for its down-but-not-out characters—many of them played by members of Kaurismäki's ever-reliable stock company.
Find out more »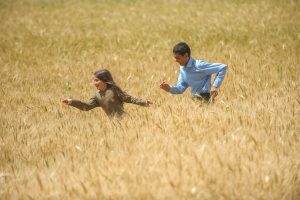 This year marks the 25th anniversary of this festival, established by The Museum of Fine Arts, Houston and Rice Cinema. Screenings will take place at both venues and at The Asia Society Texas Center. Following last year's screening of Asghar Farhadi's The Salesman, which went on to win the Academy Award for Best Foreign Language Film, this year's selections include Breath, Iran's 2017 Oscar submission. It is one of several narratives by and about young Iranian women, and, like Tehran Taboo, features the innovative use of animation. 24 Frames, the mesmerizing, experimental last film by the internationally celebrated Abbas Kiarostami (1940-2016) will be shown at both the Museum and Rice Cinema.
Find out more »