September 2018
Taking place (usually) the first Saturday of every month, and open to the public, is HPJC's Executive Committee meeting. However, voting only takes place at our Quarterly Board Meeting, which is also open to the public.
Find out more »
November 2018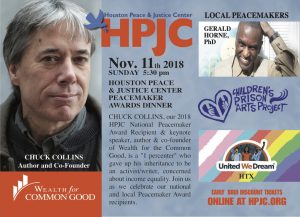 Please join us as we celebrate our National and Local Peacemaker Award Recipients!
Our National Peacemaker Award will be awarded to Chuck Collins, author and co-founder of Wealth for Common Good. Our Local Peacemaker Award recipients are Dr. Gerald Horne, Children's Prison Arts Project, and the Houston chapter of United We Dream.
Find out more »
+ Export Events