Free. Donations encouraged. RSVP required.
Come to the Center for the Healing of Racism and share an article with us!  Bring a bag lunch and your articles clipped from newspapers, magazines, journals or online sources - anything relating to discrimination, oppression and all forms of racism.  Join us in a lively discussion and contribute your ideas and materials to the Center's toolkit.  We meet on the last Wednesday of each month from 12:00 to 2:00 pm.  3412 Crawford Street (corner of Holman), Houston, TX 77004.  Free parking across the street at HCC Lot 9.  RSVP: 713-520-8226 or cfhr1@juno.com. Website: http://www.centerhealingracism.org/
Find out more »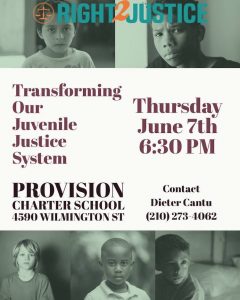 A Right2Justice conversation on transforming our juvenile justice system. This is a system that for far too long has criminalized  and dehumanized young people of color, instead of providing them with the support and resources they need to get back into public life and enter the workforce. At this event, we'll be having discussions on what a reformed juvenile justice system looks like.
Find out more »
Join indigenous communities, migrants, human rights activists, torture survivors, union workers, veterans, community organizers, faith communities, students and educators from across the Americas.  More info coming soon.  Keep an eye on http://www.soaw.org/border/
Find out more »