Vote Smart: 2018 Facts Matter Tour
September 9, 2018 @ 6:00 pm

-

8:00 pm

Free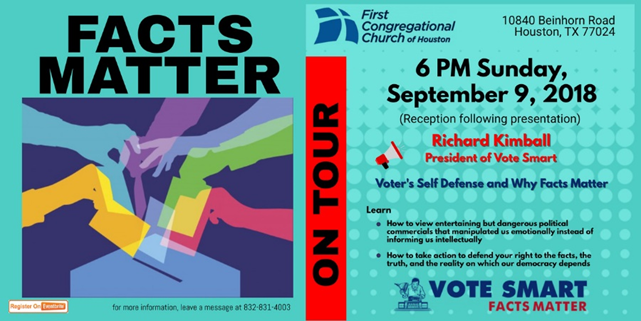 Vote Smart:  2018 Facts Matter Tour
The
Vote Smart: 2018 Facts Matter Tour
will be hosted on
September 9th
at First Congregational Church in Houston.  This is the only Houston presentation on the national tour of this voter education program.  Please join us on:
Sunday, September 9, 2018
6:00pm

Presentation followed by a Reception
Speaker:  Richard Kimball, President of Vote Smart
First Congregational Church
10840 Beinhorn Road | Houston, Texas 77024
Vote Smart is a nonpartisan 501c3 organization whose mission is to provide free, factual, unbiased information on candidates and elected officials to ALL AMERICANS.
We are "…. on a very serious mission.  It is the most critical dilemma of our time.  How do you get the facts about these candidates that so easily manipulate us emotionally instead of informing us intellectually……use [Vote Smart tools] to defend your right to the facts." (Richard Kimball;
votesmart.org
)
The Facts Matter Tour will address Voter Self-Defense strategies that help us
·       Learn how to view entertaining but dangerous political commercials that manipulate us instead of informing us
·       Take actions to defend our right to the facts, the truth, and the reality that our democracy depends on
Vote Smart volunteers (liberal and conservative alike) work together to research the backgrounds and records of thousands of political candidates and elected officials and make the information accessible to everyone through the Voter's Self-Defense System.  Through Vote Smart, you can find information on candidates and elected officials including:
·       Voting records
·       Biographical and contact information
·       Issue positions
·       Interest group ratings
·       Public statements
·       Campaign Finances
Additional Vote Smart resources include:
·       VoteEasy – an interactive research tool that lets you see which candidates are most like you
·       Publications – Voter's Self-Defense Manual is a report on your congressional delegation
·       Voter Registration – For every state, find policies and procedures, voter registration forms and instructions, and polling places
·       Ballot Measures – Descriptions of ballot measures for every state, including complete text, sponsors and election results