Progress Theatre's THE BURNIN'
September 9, 2016 @ 7:00 pm

-

September 18, 2016 @ 3:00 pm

|

Recurring Event

(See all)

SHOWTIMES: *Fridays, September 9 & 16 @ 7pm *Saturdays, September 10 & 17 @ 7pm *Sundays, September 11 & 18 @ 3pm

$20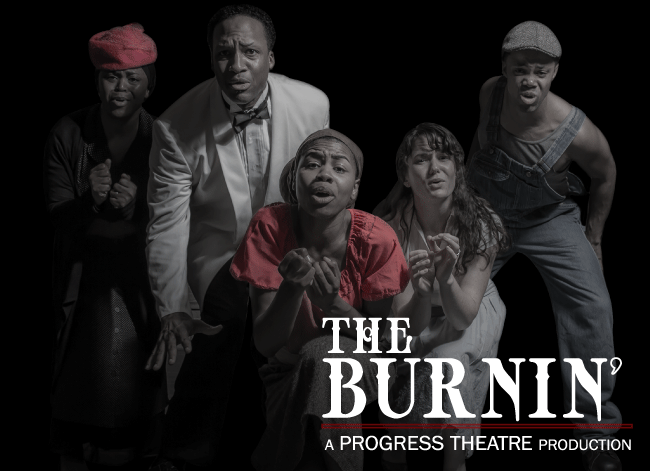 THE BURNIN' is an a'capella musical–or NeoSpiritual–fusing styles from The Blues and Jazz to Spoken Word and Hip Hop, inspired by the 1940 Rhythm Club Fire of Natchez, MS and the 2003 E2 Club Stampede of Chicago, IL. Following a group of clubgoers before, during and after two reimagined U.S. club tragedies, THE BURNIN' straddles time to explore personal and communal definitions of freedom, survival and identity during times of change.
SYNOPSIS: It's 1940 in the fictional City of Antebellum. As the African American community prepares for the return of hometown hero Band Man to the local juke, the White community organizes it's Annual Pilgrimage Pageant; a celebration of Southern hierarchy as it was "Before the War." Fast forward 85 years and post-Great Migration urban residents of Sittay gather to critique the policies and politics behind contemporary headlines at a local hip hop spot. When disaster strikes in both spaces, the clubgoers are forced to examine intersections of race, gender, trauma, agency, history, legacy and uncertain futures in the blink of an eye.
SHOWTIMES:
Fridays, September 9 & 16 @ 7pm
Saturdays, September 10 & 17 @ 7pm
Sundays, September 11 & 18 @ 3pm
TICKETS: $20 (general); $15 (students)
Written and Directed by Cristal Chanelle Truscott
Music by Heather Christian and Cristal Chanelle Truscott
Performed by Progress Theatre, a touring ensemble using theatre to encourage social consciousness, cross-community dialogue, healing and cultural awareness.
Founded by Houston-native, HSPVA alumna and Doris Duke Impact Artist Awardee, Cristal Chanelle Truscott, Progress Theatre (PT) is unique in offering a brand of a'capella musical theatre that is at once traditional and contemporary, seamlessly blending academia with pop culture to explore compelling, honest, and unflinching ways of approaching questions of humanity, and the social concerns and insights of our times. As a touring company, Progress Theatre is excited to bring THE BURNIN' (touring since 2014) home to its Houston-base and join the community of artists that make the city's thriving arts scene exciting and diverse.
Deeply invested in community service, PT aims to be not only performers/creators of ensemble-driven theatre works, but also presenters and supporters of fellow artists and collaborators with the communities we engage. The company is also offering a series of free arts and community events during their time at MATCH called "Light Days." To reverse the theatre terminology of "dark days," for when there is no performance or rehearsal in a theatre, PT's Light Days hosts local artists and programs in the theatre on days THE BURNIN' is "dark." Events include: An Arts Grants & Info Session hosted by the Network of Ensemble Theaters and a film screening of "Porch Stories," a documentary by Folklore Films, detailing life in 3rd Ward through the journeys and wisdom of the community's "Living Libraries"–the elders. See: progresstheatre.com/light-days/.
Related Events