Peace Camp 2019 – Week Four
July 29, 2019

-

August 2, 2019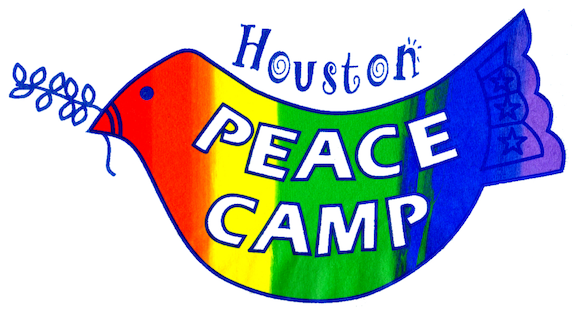 Time to register for Peace Camp 2019!
To register, click here: CLICK HERE
Peace Camp is an alternative day camp, from 9am – 3pm, for children ages 5-18.  The focus will be on developing inner peace and building problem solving skills.  Yoga, gardening, special guests, using puppets co-operative games, and cooking are some of the activities planned.  Youth who are 13 and older will have a curriculum that deals with gun control, racism, LGBTQ issues, PTSD, and other more mature topics. Although several sessions are at churches, the camp is not religious. Volunteers are needed in all areas – if you are interested please contact Judy Hoffhien at judithhoffhien@sbcglobal.net
With violence permeating our culture, let's make teaching peace a priority!
Where and When
Sessions will run Monday through Friday, 9 am – 3 pm, with five scheduled sessions starting in June.
June 3-7: Houston Mennonite Church (1231 Wirt Rd.)

June 17-21: Mission Milby Community Center (2220 Broadway)
July 15-19: Cameron Retreat Center (2403 Holcombe Blvd.)
July 29-August 2: First Unitarian Universalist Church (5200 Fannin St.)
Fees and Registrations
Registration fees are $185 per session for children grade levels PreK-5 (this spring 2019) and $50 for teens who will assist as Junior Counselors, participate in their own activities, and receive service hours.
Don't let the cost be an obstacle.  Limited scholarships and reduced fees are available.  See registration form at: CLICK HERE
Learn more about PEACE CAMP HOUSTON at the official website: http://www.peacecamphouston.org