Is This Really A Racial Reckoning?
October 1, 2020
@
6:00 pm
–
7:30 pm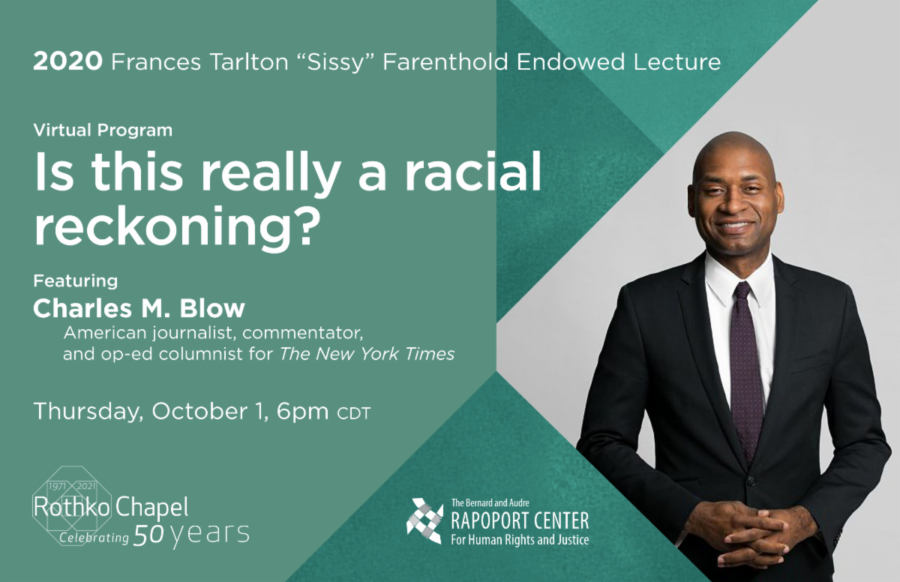 Thursday, October 1, 2020
6:00 PM
Vimeo Livestream
Frances Tarlton "Sissy" Farenthold Endowed Lecture Series in Peace, Social Justice and Human Rights
Is this really a racial reckoning? with Charles M. Blow
Presented in partnership with the Rapoport Center for Human Rights and Justice at UT's School of Law
Click "Register" below to receive link to view. Registration closes at event start time.
After the killing of George Floyd, millions of people, of all races and ethnicities, in America and around the world, poured into the streets as part of historic protests to demand racial justice. Some began to call those protests a major civil rights moment, a long-overdue, honest dealing with racial justice and equality. But, as months have passed, as progress has stalled and protests narrow, we are forced to wrestle with the question: Is this really a racial reckoning? 
Join the Rothko Chapel and the Bernard and Audre Rapoport Center for Human Rights and Justice at the University of Texas at Austin for the 6th annual Frances Tarlton "Sissy" Farenthold Endowed Lecture in Peace, Social Justice and Human Rights.
The 2020 Farenthold Lecture will kick-off a series of Rothko Chapel programs exploring the past, present, and future of civil and human rights in this country. Which rights are particularly at-risk in today's society, and how can we become more effective advocates and activists as we work to undo injustice and create a society of equality and equity? A moderated Q&A session by ABC13's news anchor Melanie Lawson follows the lecture.
About Charles M. Blow
Charles M. Blow is an Op-Ed columnist at The New York Times, where his column appears on Mondays and Thursdays. Mr. Blow's columns tackle hot-button issues such as social justice, racial equality, presidential politics, police violence, gun control, and the Black Lives Matter Movement. Mr. Blow is also a CNN commentator and was a Presidential Visiting Professor at Yale, where he taught a seminar on media and politics. He is the author of the critically acclaimed New York Times best-selling memoir, Fire Shut Up in My Bones. The book won a Lambda Literary Award and the Sperber Prize and made multiple prominent lists of best books published in 2014. People Magazine called it "searing and unforgettable."
Mr. Blow joined The New York Times in 1994 as a graphics editor and quickly became the paper's graphics director, a position he held for nine years. He then went on to become the paper's design director for news before leaving in 2006 to become the art director of National Geographic Magazine. Before coming to The Times, Mr. Blow had worked at The Detroit News. He graduated magna cum laude from Grambling State University in Louisiana, where he received a B.A. in mass communications, and he holds an honorary doctorate from Massachusetts College of Art and Design in Boston. He lives in Brooklyn and has three children.
For more info visit http://rothkochapel.org/experience/events/register/1861