Film showing – Abby Martin's Gaza Fight for Freedom
January 29, 2020 @ 7:00 pm

-

9:00 pm

Free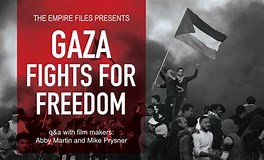 The documentary was made during, and depicts, the Great March of Return protests, whose images Palestinians of slain medics, journalists, women, children, and disabled people resounded throughout the world in 2018. The Trump administration's deepened support for the most extreme Israeli positions is also displayed in the film, with clips of Trump's moving of the U.S. embassy in Israel to Jerusalem and preparation for the "Deal of the Century."
The government of Israel tightly restricts the presence of journalists in the Gaza. In order to work around these restrictions, The Empire Files team collaborated with Palestinian videographers from Gaza.
Gaza is  the 25-mile long, seven-mile wide strip of occupied and blockaded land that the World Health Organization has said will be unfit for human occupation by 2020. The description of Gaza as an "open-air prison" is commonly used these days, but Gaza Fights for Freedom gives a visceral and painful view of this descriptor. Narrated by Martin, the camera winds us through the streets of Gaza, through the rubble of past Israeli aerial assaults–2008, 2012, 2014, and intermittent years.  The attack in 2014 alone destroyed nearly 20,000 homes. Gaza is unable to recover from this destruction, rebuild or remove the debris due to the blockade. The film takes us through densely populated cities, where families have no choice but to drink water unsafe for consumption.
The height of the Great March Of Return protests, it features exclusive footage of demonstrations where 200 unarmed civilians have been killed by Israeli snipers since March 30, 2018.
Related Events