Climate Caucus
September 10, 2019 @ 5:30 pm

-

7:00 pm

o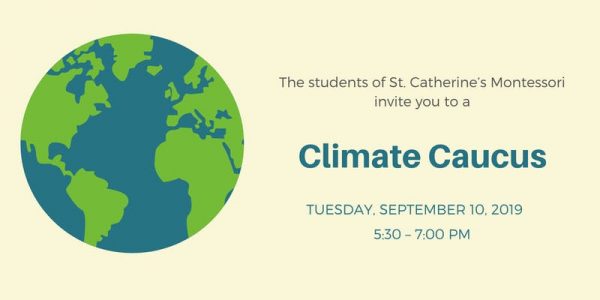 The students of St. Catherine's Montessori are hosting a climate caucus to discuss climate change and clean energy solutions in advance of Houston's upcoming Democratic presidential primary debate. This student-led, nonpartisan event serves as a way for our students to move from knowing to acting, and builds on the work from their spring 2019 climate change symposium.
Students will integrate their work in environmental studies and government studies and demonstrate their presentation skills by moderating and serving on a panel that will also feature students from other Houston-area high schools and universities. Panelists will discuss key issues and potential solutions to climate change.
The caucus will be livestreamed and shared via Facebook and Twitter to reach the presidential candidates and their campaign staff to showcase the concerns of a diverse and knowledgeable group of students who gathered together to engage respectfully with one another on the topics of climate change, energy, and legislation.
The nonpartisan event is free and open to the public. RSVP by September 8.
For more info go to https://www.eventbrite.com/e/climate-caucus-registration-70817977477