2022 Peacemaker Awards Ceremony-Dinner
November 12, 2022
@
5:00 pm
–
9:30 pm
Join other peace, justice, and environmental activists for our 2022 Peacemaker celebration, reception, awards ceremony, and dinner. We had only an online ceremony in 2020 and a limited in-person and online ceremony in 2021 because of the pandemic, but we're looking forward to seeing all of you again in person this year.
The event will be at the Houston Marriott South-Hobby Airport, on the Gulf Freeway (see details and map below). A pre-dinner reception, open to all attendees, starts at 5 pm, with the dinner starting a little after 6 pm.
All attendees should be fully vaccinated for COVID-19.
Pre-registration is required, and the meal count has to be turned into the hotel a week in advance. So don't wait until the last minute!
Information on our wonderful peacemaker awardees follows.
---
National Peacemaker Awardee
We are excited about our national Peacemaker award recipient, Reuben Jonathan Miller, who will also give the keynote address for the dinner. Dr. Miller is an assistant professor of sociology at the University of Chicago Crown Family School and a Research Professor at the American Bar Foundation. His research examines how racialized and poor people experience law, crime control, and social welfare policy.
UPDATE, Oct. 12, 2022: Dr. Miller has just been awarded a MacArthur Foundation fellowship for his work tracing the long-term consequences that incarceration and re-entry systems have on the lives of individuals and their families. Details: www.macfound.org/fellows/class-of-2022/reuben-jonathan-miller#searchresults and https://news.uchicago.edu/story/reuben-jonathan-miller-scholar-mass-incarceration-awarded-macarthur-fellowship
His first book, Halfway Home: Race, Punishment and the Afterlife of Mass Incarceration is based on 15 years of research and practice with currently and formerly incarcerated men, women, their families, partners, and friends in Chicago, Detroit, and a number of cities across the United States. He was featured in a recent PBS Newshour special, "Searching for Justice: Life After Lockup" (or watch it on YouTube) that focused on the difficulties that formerly incarcerated people face after they are released.
To capture the effects of crime control in global cities under different public policy regimes, Miller conducts ongoing fieldwork in the UK and the EU, and will begin fieldwork on the African Continent and in the Carribbean. He is currently conducting research on the "moral worlds" of people we've deemed violent and a comparative study of punishment and social welfare policy in port cities that were most involved in the transatlantic slave trade.
Prior to joining Crown Family School at the University of Chicago, Dr. Miller was an Assistant Professor of Social Work at the University of Michigan where he served as a Faculty Associate in the Population Studies Center and a Faculty Affiliate in the Department of Afro American and African Studies. He was selected as a Member in the School of Social Science at the Institute for Advanced Study in Princeton, NJ (2016-17), the world's leading center for curiosity driven research, a visiting fellow at Dartmouth University (2018) and an Eric and Wendy Schmidt National Fellow at the New America Foundation (2018-19). His work has been published in journals of criminology, human rights, law, psychology, sociology, social work and public health and he is frequently called upon to offer commentary on issues of crime, punishment, racism and poverty.
Read more about Dr. Miller's biography and research at the UC Crown School's website.
Watch Reuben Jonathan Miller's TED Talk.
HPJC Local Peacemaker Awardees
We are also excited about our Local Peacemaker Awardees: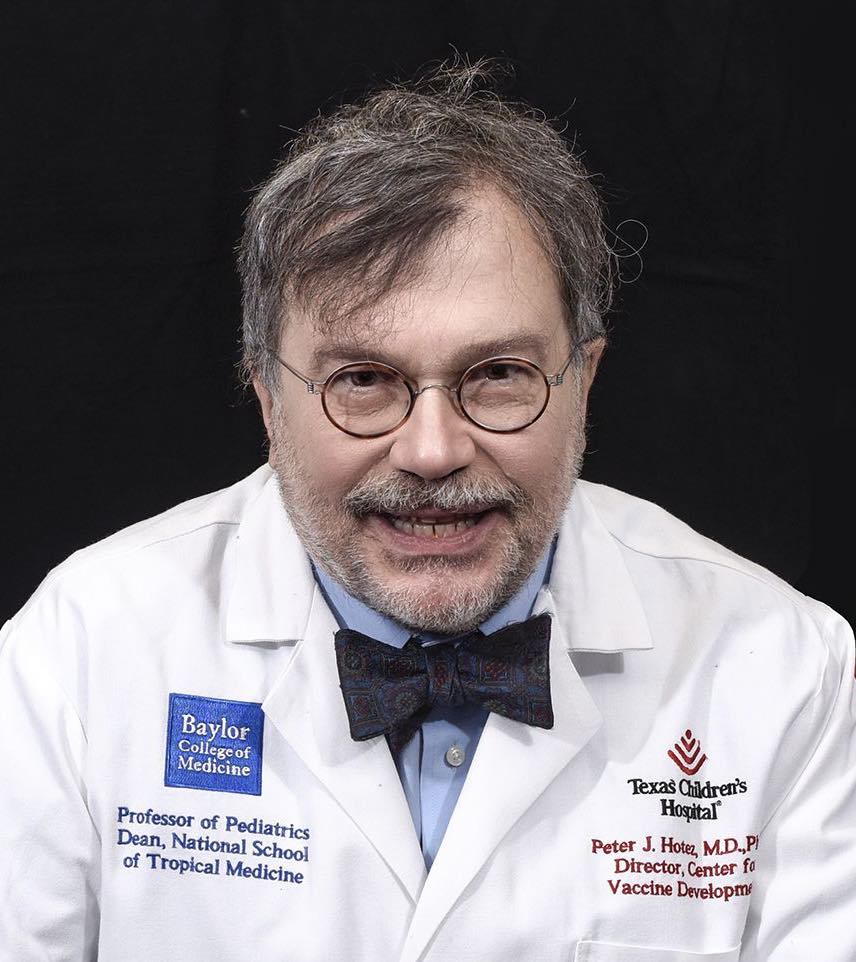 Dr. Maria Elena Bottazzi and Dr. Peter Hotez, of Baylor College of Medicine and the National Institute of Infectious Diseases here in Houston, are receiving awards for their outstanding work developing the Corbevax vaccine for COVID-19 as well as for their research on often-neglected tropical diseases.
Hundreds of millions of doses of Corbevax have already been made in India, and have been shipped to African countries and elsewhere.
In addition to Corbevax, Hotez and Bottazzi also developed a halal version, called IndoVac, for Muslim-majority countries. The IndoVac vaccine was recently approved for emergency authorization use in Indonesia as a primary vaccine for adults. The hope is that IndoVac will replicate the Corbevax's India success in Indonesia, he said.
Unlike other COVID vaccines, they are making Corbevax and IndoVax available to the world without the expensive patent or royalty payments that the large pharmaceutical companies are requiring. As a result, many less wealthy countries are able to get their people vaccinated at the cost of production.
Dr. Bottazzi is Associate Dean, National School of Tropical Medicine. She is a Professor in the Departments of Pediatrics (Tropical Medicine) and Molecular Virology and Microbiology, Integrative Molecular and Biomedical Sciences Program, and Translational Biology and Molecular Medicine Program, at Baylor College of Medicine.
Dr. Hotez is the Dean for the National School of Tropical Medicine at Baylor College of Medicine. He is also a Professor in the Departments of Pediatrics and Molecular Virology & Microbiology at Baylor. In addition, he is the Endowed Chair in Tropical Pediatrics at Texas Children's Hospital, and Co-Director of the Texas Children's Hospital Center for Vaccine Development
For more about the accomplishments of, and research by, Drs. Bottazzi and Hotez, read their individual bios (click on their names above) and these articles:
State Rep. Senfronia Thompson is also receiving a Local Peacemaker Award. She represents District 141, which includes Northeast Houston and Humble, and is a Houston attorney and award-winning legislator. Her commitment to social, economic and criminal justice reform has earned her the respect and admiration of many people from Texas and beyond.

Rep. Thompson has proven her commitment to those less fortunate with her tireless fight for justice, equality and opportunity for all. Rep. Thompson has led the fight against human trafficking long before people even recognized what human trafficking was and how these traumatic experiences damage people's lives. She has put Texas first in having some of the best anti-human trafficking laws compared to other states. She worked passionately for the passage of Texas' Equal Pay Act in both the house and senate. Although the bill was vetoed, Rep. Thompson remains committed to ensuring Texans receive equal pay for equal work.

She is the author of the James Byrd, Jr. Hate Crimes Act; the Sexual Assault Program Fund; the Model School Records Flagging Act to assist in the location of abducted children; the state's current minimum wage law; Texas' first and only alimony law; laws creating drug courts; laws providing insurance coverage for anti-cancer oral medication, 3D mammograms; HPV & cervical cancer screening tests and contraceptives, like the IUD and diaphragms. She has also passed laws protecting unpaid interns from sexual harassment; allow Medicaid nursing home residents to keep more of their retirement or social security money for their personal use; allow homeowners over the age of 65 to make quarterly property tax payments without penalty; law allowing parents to request a camera in the classroom of special need students, and scores of other reforms benefiting women, children and the elderly.

She sponsored laws banning racial profiling, secured state funding to install video cameras and audio equipment in every police car to be used at all stops; ended "debtor's prison" to prevent people from ending in a cycle of debt, jail time and license suspension simply because they can not afford to pay their traffic tickets or other fine-only offenses. She also authored the Chief Justice Jack Pope Act which increases funding for legal aid to help low-income Texans with their civil cases and the Michael Morton Act, to create a fairer criminal justice system in Texas. She has passed legislation aimed at protecting women and children against domestic violence, extending protective orders to last longer and enforceable within the entire state of Texas, increasing the penalty of sex offenders, giving rape victims a voice in the processing of their rape kits and fought to end sexual discrimination in the work place.
Learn more about Rep. Thompson at senfroniathompson.com/about/
Lenore Walker
Lenore Walker is also receiving one of our Local Peacemaker Awards. She is a long-term volunteer at Casa Juan Diego here in Houston and a fierce ally and advocate for many immigrant and refugee women and their families after they leave the women's shelter. Ms. Walker has been volunteering with the women's shelter of Casa Juan Diego for more than twenty years. She started volunteering at Casa with Mark and Louise Zwick, and eventually became part of the team that has helped keep Casa Juan Diego open for the thousands of migrants who go through it every year.
Ms. Walker is the daughter and granddaughter of Italian immigrants, and she never forgot her migrant roots. This had a decisive influence on her calling and her capacity to establish profound relationships with the women that pass through the shelter at Casa Juan Diego where she has cooked, cleaned, and advocated for them and their children all these years.
Immigrant women from Cameroon, China, Ethiopia, Eritrea and Central America call Ms. Walker their second mom and their children call her Nonna (or grandma). She has been with them as they navigate asylum and immigration cases, advocating for them and accompanying mothers and their children as they learned how to respond to the challenges presented by school systems and other agencies.
Ms. Walker has served for more than two decades with humility, perseverance, and a fierce love for these immigrant and refugee families, rooted in her faith and her own identity as a woman, a working mom, and the daughter of Italian immigrants. Very often the spotlight is given to those in the movement who do work that is considered more "political" and is more visible, but the backbone of the movement for peace and justice in the US resides in community-based social services and in the quiet, effective, and reliable work of countless volunteers. In these political times the profound testimony of radical hospitality that the Catholic Worker movement proposes and Casa Juan Diego makes real, is kept alive by persons like Ms. Walker.
---
Our Peacemaker Awards Dinner is HPJC's primary fundraiser for the year, and proceeds support Peace Camp Houston and our other activities.
713-305-5346
hpjc@crosierbiomed.com
Event Navigation