2017 Scholar-in-Residence Mr. Tim Wise
January 31, 2017 @ 2:00 pm

-

4:00 pm

Free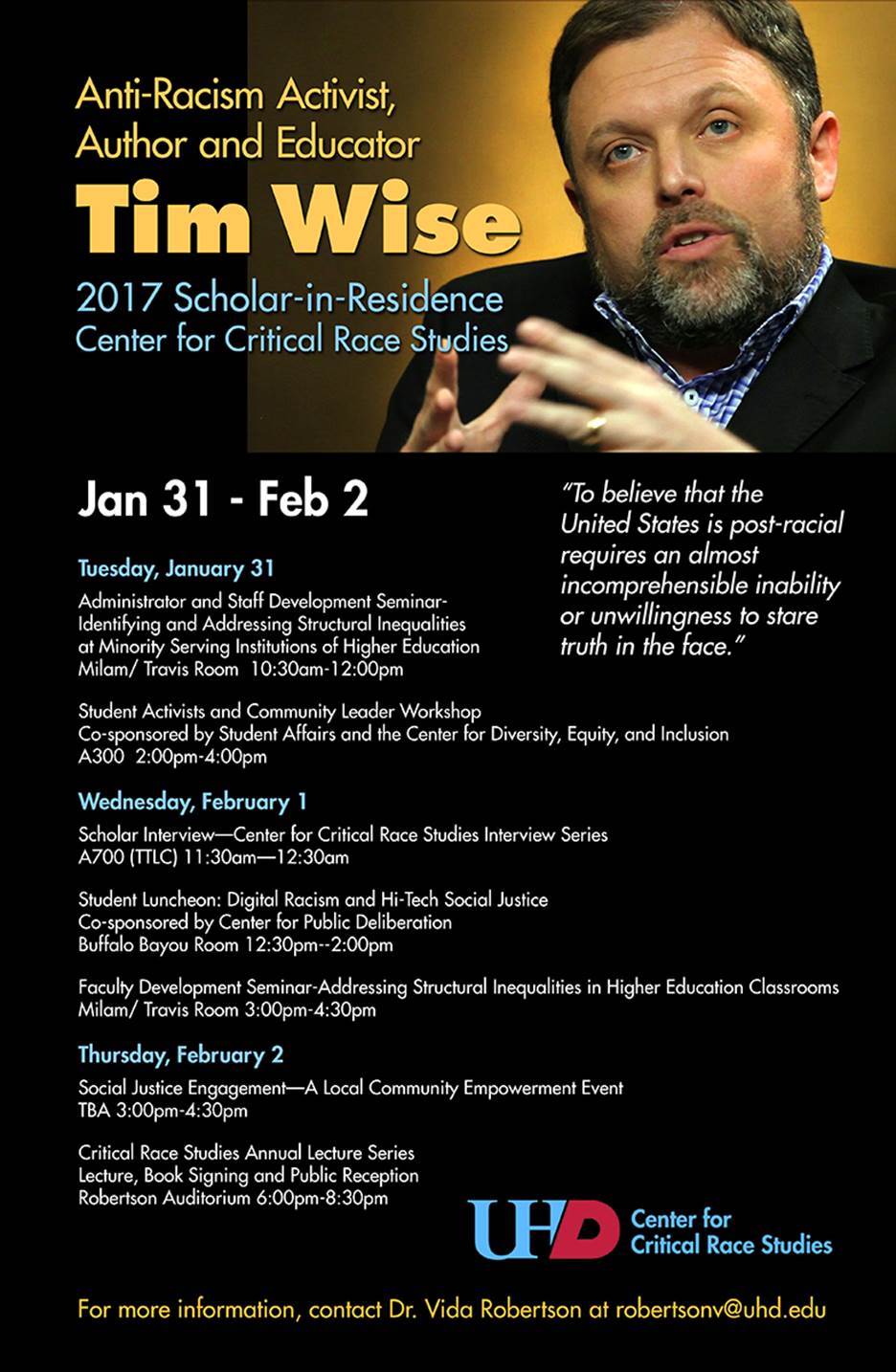 Dear CCRS Supporters,
The Center for Critical Race Studies at the University of Houston—Downtown offers a space of retreat and reflection for all people, no matter your race, ethnicity, ability, gender, sexuality, religion, class, caste, or national origin.  We welcome you to a critical and frank consideration of racialized violence in our country as well as  manner in which institutions engage in racist actions under the guise of policy change. The Center recognizes that individuals and institutions are neither neutral nor colorblind.
To that end, we proudly present the 2017 Scholar-in-Residence Mr. Tim Wise. Mr. Wise is the author of seven books, including his highly-acclaimed memoir, White Like Me: Reflections on Race from a Privileged Son, as well as his latest text Under the Affluence: Shaming the Poor, Praising the Rich and Sacrificing the Future of America. He will visit UHD from January 31st—February 2nd, 2016. Feel free to invite your colleagues, family, and friends to take part in the weeklong events. In preparation for his seminars, workshops and public lecture, be sure to read-up on Tim Wise at http://www.timwise.org/. Also, check out his revised YouTube version of his highly-acclaimed memoir, White Like Me at https://www.youtube.com/watch?v=xpgTiwhlk5g. 
In the face of the emerging challenges that face our university, our Houston community and our nation, I encourage you to mark Tim Wise's visit on your calendar. Join us in our commitment to ensure liberty and justice for ALL.
Please take time to register your participation in the following events:
​ Tim Wise, Tim Wise, CCRS 2017 Scholar-in-Residence
"To believe that the United States is post-racial requires an almost incomprehensible inability or unwillingness to stare truth in the face."
Tuesday, January 31st
Student Activists and Community Leader Workshop
Co-sponsored by Student Affairs and the Center for Diversity, Equity, and Inclusion
A300  2:00pm-4:00pm
Register to Attend
Thursday, February 2nd 
Critical Race Studies Annual Lecture Series
Lecture, Book Signing and Public Reception
Robertson Auditorium 6:00pm-8:00pm
Register to Attend