Our mission is to build a just, sustainable, and non-violent community. How we do that:
Provide peace education
Activism training
Collaborative resources for individuals, families, and organizations throughout the Greater Houston area:

Our five Working Groups (click on "About" in the menu above)
This web site
Our Calendar of Events, to which any non-profit may post their events
Our Email newsletter, sent to 3,000 people, with contents from our calendar of events
To get involved or support our work, click on the Join us! link in the menu above.
---
UU  SPRING  MUSIC  FESTIVAL  MARCH 25,  2023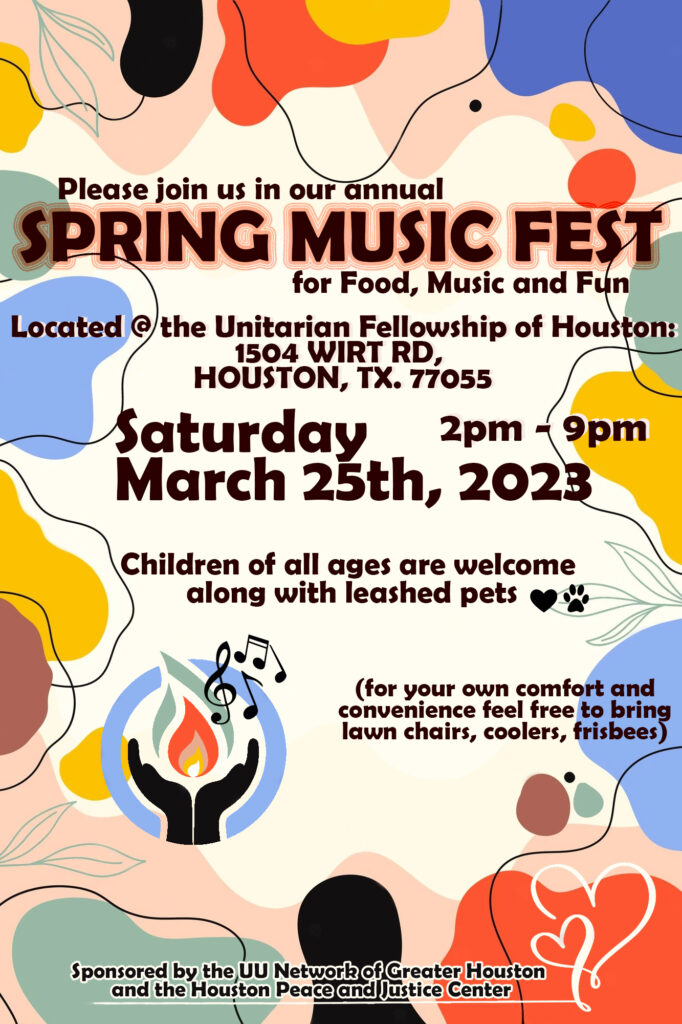 INDOOR  STAGE: 

3:00  PM         Karaoke                                             Jimmy  Dunne,  Unitarian  Fellowship
5:00 Belly Dance Belly Dancers from Houston Area
5:45 Jarrod Douglas & Associates The Church Of The Greater Universe
Comedy & Drama
OUTDOOR STAGE:
3:00 PM Houston Civic Jazz Orchestra Unitarian Fellowship
4:00 Yellow Dog Howlers Thoreau UU
5:00 The Cosmic Cats Thoreau UU
6:00 Senor Bubba Unitarian Fellowship
7:00 Open Mic Poetry, story, song, wisdom, comedy, confusion
8:00 Julie Wilson Trio Unitarian Fellowship
---
A Resolution to appeal for the Protection of our Democracy and Save and Embrace Culture Diversity In America
Whereas; the teaching of Ethnic Studies; Mexican American, African American, Native American, and Asian American Studies is crucial to the understanding of the rich historical culture of our diverse America;
Whereas; understanding the rich historical culture of Mexican Americans, African Americans, Native Americans, and Asian Americans leads to an enlightened citizenry;
Whereas; the Texas State Board of Education has unanimously approved the curriculums of Ethnic Studies of Mexican Americans, African Americans, Native Americans, and Asian Americans;
Whereas; an enlightened citizenry demonstrates increased tolerance and acceptance of the social differences between cultures;
Whereas; increased tolerance and acceptance of social differences between cultures leads to a reduction of hatred, bigotry, and racism;
Whereas; the Greater Houston Coalition for Justice's mission is to defend the rights of all citizens to teach and read about the rich history of the different cultures interwoven in the fabric of the American tapestry; and
Whereas; Governors and legislators in Texas and Florida are denying high school students the opportunity to learn the rich history underlying the coveted idea of America by blocking the required teaching of Ethnic Studies; Mexican American, African American, Native American, and Asian American Studies in our public schools.
Now, therefore be it Resolved, that the Greater Houston Coalition for Justice respectfully request that Texas and Florida Governors and Legislators refrain from diluting the advancements made by the Texas State Board of Education by blocking legislation that promotes a better understanding of the beauty of our proud, culturally diverse states by making it required studies for graduation for all students.
Let it be Further Resolved that the Greater Houston Coalition for Justice appeal to all national, state and local elected officials to honor cultural diversity as codified in word and intent in our United States Constitution; with Justice for All.
By a majority vote of those present at its duly formed February 11, 2023 meeting, I do hereby set my seal affirming this action.
__________________________________
Johnny N. Mata, Presiding Officer
Greater Houston Coalition for Justice (GHCFJ)
---
---
Statement on Russia/Ukraine War
Uncategorized / February 28, 2022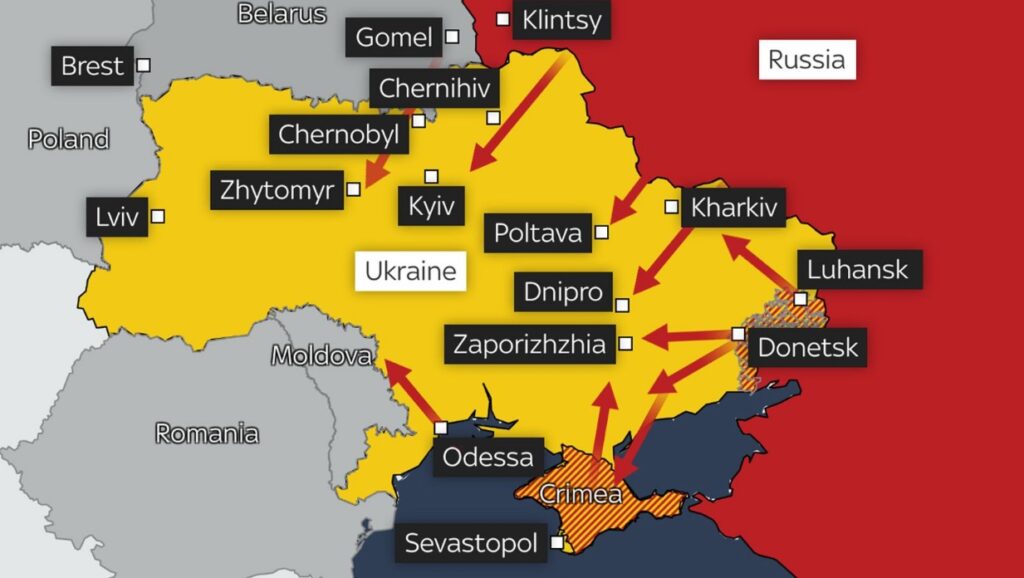 Russia's invasion of Ukraine is a deadly escalation of a long-simmering conflict. Russia is not solely responsible for the tensions, but they are the ones who have initiated a large-scale military action. Russian forces should immediately withdraw to the positions established in the Minsk II agreement of 12 February 2015.
But even as we condemn Russia's initiation of the largest ground war in Europe since WWII we should remember that the United States and its allies have done much to fan the flames.
In 1998 when the Clinton Administration was expanding NATO, George Kennan, former U.S. ambassador to the Soviet Union and the architect of the Cold War "containment" policies told a journalist that growing NATO in the wake of the collapse of the USSR, "shows so little understanding of Russian history and Soviet history. Of course there is going to be a bad reaction from Russia, and then [the NATO expanders] will say that we always told you that is how the Russians are — but this is just wrong."
Our mistreatment of Russia is not an excuse for this invasion, but as we search for peace and a negotiated way out of this deadly mess, it is important that we acknowledge that NATO expansion and the threat of Ukraine similarly joining the alliance is also wrong. But just as we have condemned many egregious U.S. violations of international law (Iraq invasion, murderous drone strikes, etc) we must similarly condemn Russia's flagrant violation.
This is a statement by Global Exchange, and endorsed by HPJC. It's at globalexchange.org/2022/02/24/russias-invasion-of-ukraine-is-a-violation-of-international-law-we-condemn-it
---
A Way Forward: A History of Racism in Law Enforcement
Recently The Center for the Healing of Racism examined the history of racism inlaw enforcement in the United States. Jeff Reese discussed the origins of the problem and how we got where we are today. Reese led the audience in seeking A Way Forward to dismantle institutional racism and mass incarceration.
During his 26 year career with the Harris County Sheriff's Office, Jeff Reese worked as a hostage negotiator, suicide counselor, certified Mental Health Peace Officer, state-certified law enforcement instructor, and a front-line supervisor. After retiring from the Sheriff's Office, he joined the Houston Peace & Justice Center (HPJC) and the Greater Houston Coalition for Justice. For the past three years, he served as president of the HPJC.
---
---
Join the movement for peace and justice in Houston:
---
Support Peace Camp Houston, one of HPJC's major projects:
Donate to Erik James Memorial Scholarship fund for Peace Camp Houston
---
Connect with HPJC
---
News Feeds – Updated Automatically Each Day
Check back here for the latest national and international news!
Special thanks to Univision Houston for its support to HPJC and their diversity, equity and inclusion initiatives.
Tweets by Univision-English